Now, more than ever, we all need time out from the hustle and bustle of everyday life.
Fortunately, it's easy to de-stress and re-energise at home with the innovative functions, sublime comfort and clean Scandi look of Stressless® furniture.
Imagine totally relaxing on a sofa that supports every part of your body or putting your feet up in the power-assisted recliner of your dreams.
Investing in the world's most comfortable and functional furniture can be the foundation of a routine dedicated to maintaining the energy levels you want to live an active life.
1. Create a luxury relaxation space at home
Creating an at-home escape from a non-stop lifestyle is the secret to maintaining vitality.
Aesthetics are important – Nordic style means furniture with clean lines, the use of natural materials such as wood, and a sleek, modern décor that feels warm and inviting.
But great design is so much more than what meets the eye.
All Stressless® Scandi furniture goes beyond surface looks and focuses just as much on functionality, including electric furniture and superior ergonomics.
In fact, Stressless® has so many irresistible, gold-standard seating choices that it may be difficult to settle on just one.
Recharge with a Stressless® Stella contemporary modular sofa that responds to your natural movements and adjusts the seat accordingly using the Stressless® BalanceAdapt™ system.
Sink into the soft, enveloping cushions of the Stressless® Emily sofa, with adjustable headrests and the option of powered-adjusted back and leg support, and feel the tension leave your body.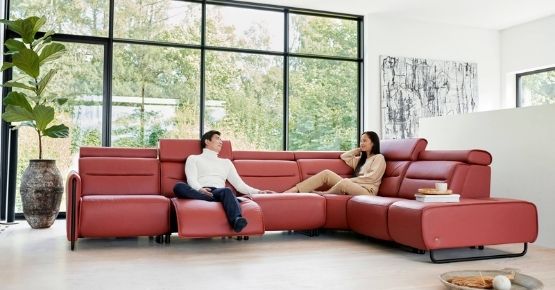 Choose Stressless® dining chairs, that use the Balance Adapt™ system combined with the patented Glide system to automatically respond to your body's tiniest movements, and enjoy time spent with friends and family in total comfort.
Everyone deserves furniture that not only elevates their look but their lifestyle.
2. Reconnect with Nature
Just as spending time in green spaces has been proven to help you recharge physically and psychologically, investing in eco-friendly furniture is the way to create a soothing, natural environment.
Stressless® knows that the people who buy their sofas, chairs and recliners care about the future – and they do too.
All power supplied to their furniture factories in Norway comes from clean hydropower.
All Stressless® wooden offcuts are regenerated into heating the factory and any surplus heat is used for district heating for homes and the local outdoor pool.
Stressless®' more complicated closed-loop system allows them to clean steel frames without releasing toxicants, and their use of eco-friendly, water-based paints and lacquers on the Scandi furniture helps protect the earth.
Even simple things, such as using recycled materials for packaging, recycled water in our manufacturing, and leftover foam for arm and footrests, make a difference.
Buy an iconic piece of Stressless® furniture, and you're investing in a future we can all believe in. What could be a more investment than the special 'Anniversary Model' - the Stressless® London on the Original base. The reintroduced Original base will give the Stressless® Metro, London, Paris and Tokyo an iconic retro look.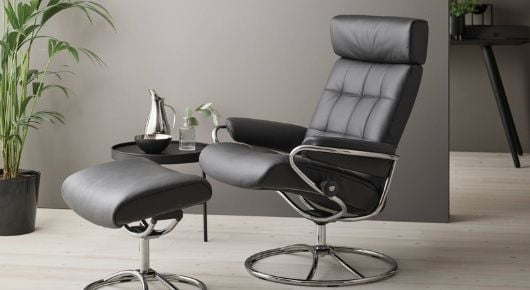 3. Choose furniture designed for pure comfort
We know you'll fall in love with Stressless® recliners – the only ones to be endorsed by the Australian Chiropractors Association. Patented features across the entire range support your body in unrivaled levels of ergonomic comfort, so you can let go of energy-sapping tension.
Contoured steel frames shaped to your body provide unsurpassed support, while cold cured foam comfort zones allow you to sink deeper into comfort.
Tight, sore muscles are soothed as you recline and the Plus-SystemTM – a functional skeleton of springs – interprets your movements and provides increased lumbar reinforcement. At a 110 – 130 degree angle in a Stressless® chair, all muscles are relaxed and able to rejuvenate.
Adding to the perfectly engineered experience of Stressless® recliners are headrests that adjust automatically to support rest or, with a simple release, assume a flat position for napping.
Want to really pamper your tired, tense self? Stressless® master craftspeople have recently created the world's first heating and massage Nordic recliner – Stressless® Sam and Stressless® Scott – for those who truly value quality time out.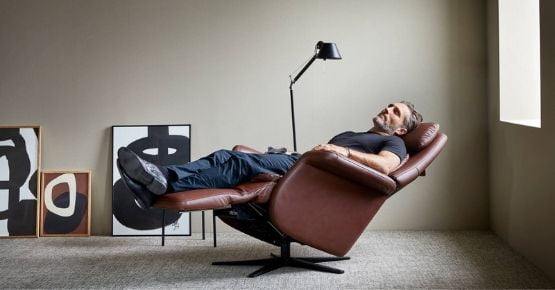 4. Power up your energy levels
Start with your favourite Stressless® chair, sofa or recliner, let it help your whole body relax, then access a free, guided relaxation on an app like Insight Timer while you kick back in comfort.
Or build on that deep sigh that escapes when you ease into the embrace of Stressless® furniture.
By taking three slow, deep breaths, you can help switch your nervous system from sympathetic (fight or flight) to parasympathetic (healing) mode.
When you buy the best Scandi furniture, it's easy to become a health and happiness expert.
5. Remember that time well-spent leads to a life well lived
We all realise how important it is to reduce stress and create a comfortable home that supports our values, goals and dreams.
Buying Stressless® is about prioritising self-care, sustainability and craftsmanship.
It's also about living an authentic life where you choose a product that supports not only who you are but who you want to be.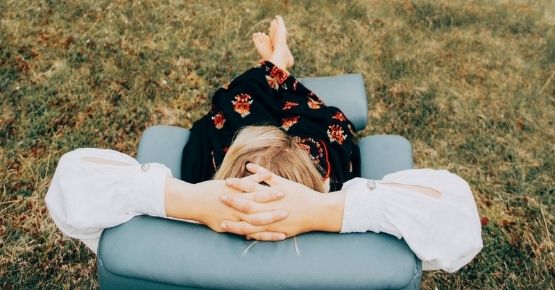 Source: www.stressless.com